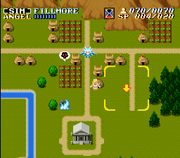 Blue Dragons are encountered in Sim Mode in ActRaiser, and are generated by Monster Lairs. The Blue Dragons are erratic monsters. They may hover over their lair placidly but once on the prowl, they can become annoyingly difficult to avoid and hit.
A Blue Dragon's primary goal is to torch as many houses as it can with a lightning strike, instantly killing anyone within. When engaging a Blue Dragon, the Angel should not stray to close, as the dragon will quickly evade close encounters, and this dodge can easily damage the angel. They take three hits to kill.
| | | |
| --- | --- | --- |
| Hit Points | Damage | SP Recovery |
| 3 | 3 | 2 |
Ad blocker interference detected!
Wikia is a free-to-use site that makes money from advertising. We have a modified experience for viewers using ad blockers

Wikia is not accessible if you've made further modifications. Remove the custom ad blocker rule(s) and the page will load as expected.